Reblog from Kenneth Woods- A view from the podiumI am in Philadelphia this week for some work with my string trio, Ensemble Epomeo.I have to say, Philadelphia has become one of my favorite cities- I love the neighborhood feel in the part of town where I'm staying, with some lovely shops and restaurants as well as the incredibly characterful Italian Market, where you find the most astounding array of produce, meats, fish, cheeses, oils and just about anything else to cook and eat you can imagine.It's our first concert together since May- we're heading into our busy part of the year, with small projects this month and next followed by a pretty substantial tour of New England and the Canadian Atlantic Provinces in November. We've got new repertoire to learn and old repertoire to refresh.  (This week we're playing Kile Smith's Thrice Blest, a short trio by Richard Strauss, the Gal Serenade op 41 and Beethoven's Op 9 No. 1 n G major).In a capitulation to the ever increasing costs, risks and hassles of traveling with a cello, I'm playing this week on a borrowed instrument. I don't expect much sympathy from pianists out there (other than Krystian Zimerman), who have to cope with different instruments all the time. However, I played on one cello for every single concert I did between 1991 and 2001. The relationship between most string players and their instruments is incredibly close. I'd say that string players are, in general, only slightly less reluctant to change their instruments from gig to gig than singers, who are stuck with one for their whole lives.Musicians will go to great lengths to have their instrument with them for a gig- including buying seats where possible, and investing in incredibly expensive and bulky flight cases. Unfortunately, as I found out in 2001, the best flight case is no match for a fork lift, which ripped off the top of my case and cello.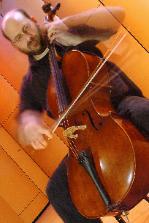 (That's not Ken's "real" cello)Switching cellos on a short rehearsal schedule can pose a number of challenges. In this case, the cello (a pretty nice one) hadn't been played at all in many months, and at the first rehearsal it felt incredibly stiff and unresponsive. I couldn't get anything to speak on the lower two strings that first night. I can hardly think of a piece that depends more on effortless precision of attach than the Beethoven Trio we're playing this week- trying to rehearse that music when I had to play with elephantine effort amidst a panorama of squwks and whistles to get anything out is  not fun. String instruments can be temperamental creatures- if they are feeling neglected and unloved, they're certainly let you know.
(A promo photo of  the trio, with Ken holding someone else's cello)There are other challenges- pitch is the most obvious, and string trio is the most demanding medium for tuning. Far easy to switch cellos for solo playing or orchestra work than for small chamber ensembles.However, the most challenging thing is to find ones own sound and voice on an instrument that may have very different properties to your regular axe. After a couple of days of near-constant playing, this instrument is opening up, and I'm finally starting to feel like I can hear my "self" when I play it. Really, I should be encouraged by how fast it all goes- from day one where no sound comes out at all, to day two where I'm just focusing on getting the notes to speak reliably, by day three, I'm actually beginning to get some colors and tone.Anyway, I try to accept the challenge for what it is, to take it on the chin in those early rehearsals when I can't stand the sound I'm making and to have confidence that we'll get there by concert time. I've dealt with these challenges many times before- see here or here.Still, I  feel like more and more we're expected to produce under ever more difficult working conditions as musicians. The squeeze is on from all sides- as orchestra budgets collapse, musicians have to put on concerts with fewer rehearsals, while taking on more teaching and freelance work to make up for lost income. That means less time for everyone to prepare for concerts with less time to rehearse. Not good.Last night, we ran the program and recorded it. There are many things I'm pleased about (both in my own playing and that of the group), and there are "other" things there too that we'll fix today. I think the cello will sound fine in the concert, but I can hear how much of my mind is going into thinking about the mechanics of what I'm doing. Not in the obvious sense of things sounding mechanical- it's more that I can hear myself overlooking little details I would normally catch because 40% more of my brain is going into getting that low F# to speak than it normally would. I don't have any spare brain these days- I need that 40% back! At this point, I can just about get the right sounds- now I have a few more rehearsals to get to the point where I can get that result with a level of effort similar to what I'd expend on my own cello.Maybe the trick isn't to rehearse or practice at all- I've occasionally managed to pull a rabbit out of a hat in concert when I've had to do a quick switch, and there was the incredible situation a few years back in Cardiff when Alban Gerhardt had his Guadanigni stolen just before a recording session. He switched instruments on no notice and nailed the concertos in the sessions. A good, if tragic, reminder that we shouldn't make excuses for ourselves.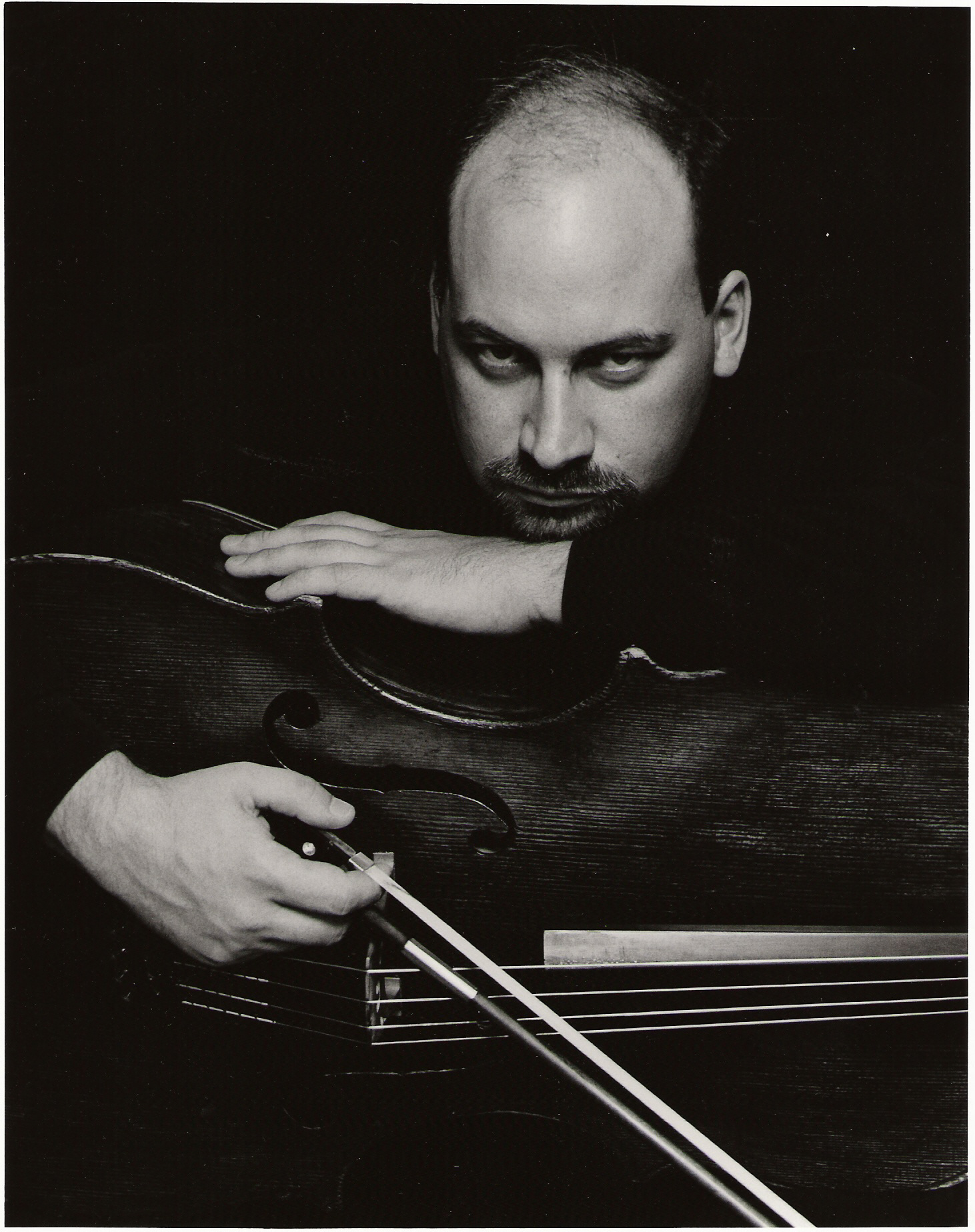 (Why so serious- because Ken never gets to play on this cello)